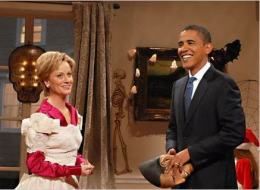 Barack Obama will make an appearance on "Saturday Night Live." It will be the senators second appearance. The Seasons Premiere will be this Saturday Sept. 13. SNL will be hosted by Olympian Michael Phelps. Alum Tina Fey may play Gov. Palin.

This ought to be a good one folks. Usually the Seasons Premiere is especially good. I hope that Fey plays Palin, she is a shoe in. Obama who has been virtually pushed off the radar by Palin needs to make a come back. Will this be it?


The photo is of Obama's first appearance on SNL in November where he played himself in a Halloween Party skit.